These line up show IC strap attachment machinery. Flagship model can attach 10straps per second!
The production processes can be module units. Each module combination is changeable and is introduced as on demand equipment.
If you are interested in Inlay production, please contact us.
HRB2813
HRB 2813 is IC strap attachment speed 10 part per sec.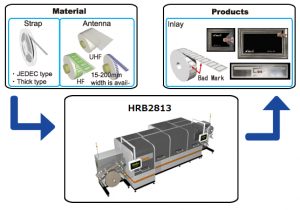 Model
HRB2813
Strap Attachment Speed
MAX.10patrs/sec.
Bad Item rejects system
Strap
Advanced strap handling module
Inlay
Not included (apply a mark on bad items)
Strap
Antenna
15-200mm width is available
Products
Inlay
(Apply a mark on bad items.)
More detail information you need, please contact us.